How To Sell Your Phone Tablet Laptop Console For Cash
At Electronic Partners you can sell your Phone Tablet Laptop Console for cash. It is the easiest place to sell unwanted electronic. With our system, it takes just a few minutes to sell gadgets like smartphones, iPods, iPads, Macbooks, laptops, tablets, game consoles and more. Don't leave those unneeded devices to gather dust, recycle them with us today!
Line your pockets with cash and let someone else enjoy that device while maximizing our planet's resources and reducing e-Waste.
Selling those gadgets is easy! Simply search our site to get a quote, submit your item and send it in using our free collection service.
Our on-line form will ask a few questions about the condition of your gadget. Select all that apply to get an accurate quote.

After you received your quote by email and you decided to sell, you will be given the option to checkout and decide how you will get paid. Once you submit your form the free collection will be booked.

We issue same day payment via PayPal or Bank Transfer if you confirm the sale of the device after inspection. You can also choose to get paid via company check which will be sent by mail.
What can i trade in?

We specialise in phone, tablet, laptop and consoles:

Games consoles such as PlayStation 4, Xbox One.
Handhelds (PS Vita, Nintendo 3DS)
Tablets (Samsung Galaxy tablet and other android tablets)
Apple ipads (Apple ipad 4, Apple ipad mini, Apple ipad air)
Laptops and Apple MacBooks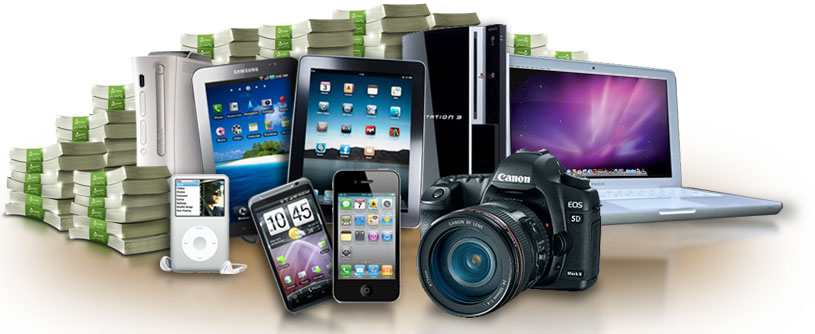 Please Note:
Not all products are eligible for trade-in. Trade-in value may vary. The condition, documentation and accessories may affect value. Payment is by Paypal or Bank Transfer only.
The Electronic Partner Trade-in programs are intended for private, non-commercial use. No dealers. Limit of 3 trade-in transactions per person per day. Electronic Partners reserves the right to refuse any trade-in for any reason. For complete details, see a Customer Specialist in store or check out these Trade-in FAQs.